AQ Ranch Livestock For Sale
A 50% non-refundable deposit will hold the calf of your choice until it is weaned, or until pickup can be arranged. If you want to bottle feed one of the babies, you may pick them up before weaning is complete. We usually wait until they are 6 months of age to separate them from mom. However, if the weather is hot, we'll wait for cooler temps to reduce stress on them. The new owners have 90 days to arrange pickup once they've been notified the calf is ready. All of our Scottish Highlander breeding stock are registerable (unless otherwise noted).

We're proud to announce the debut of our 2017 babies! None of their registration papers have been submitted yet, so at this point purchasers can still change their official names.
If you are interested in some of the animals we have already sold, they have their own page: AQ Sold

Born on 18Feb2017, RAQ Feargas Wallace is a handsome black bull out of Emilie and MacTavish.
'Fergus' is pictured here with his mother at a little over 6 months of age.
He is offered at $1000.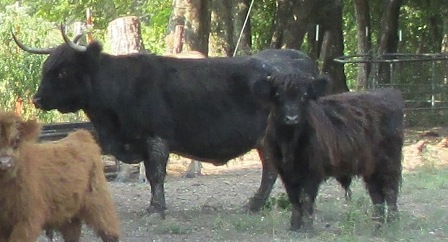 Born on 26Feb2017, RAQ Aileas Scott is a beautiful brindle heifer out of Fiona and MacTavish.
'Alice' is pictured here with her mother in early September, cooling off in the shade.
She is offered at $1100.

Born on 26Feb2017, RAQ Aonghus Buchanan is a brindle bull out of Ceana and MacTavish.
'Angus' is pictured here with his mother on 04Sep.
He is offered at $1000.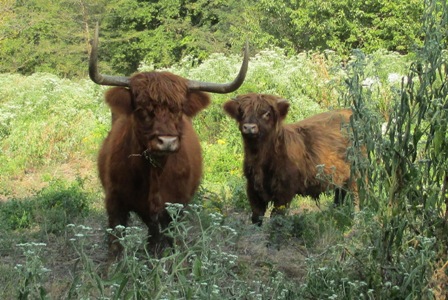 Born on 12Jul2017, this little red baby is out of Sarah and MacTavish.
We've not been able to get a positive confirmation of gender.
As you can see in the picture, this wee one has inherited the 'notch ear' gene from Sarah.
Price will be determined once gender is confirmed.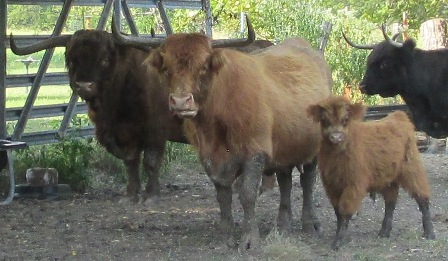 Born on 12Aug2017, RAQ Donnan Argyle is a light red bull out of Heather and MacTavish.
Shown here with proud mum at 1 month old.
He's offered at $800, and will be available once he is weaned.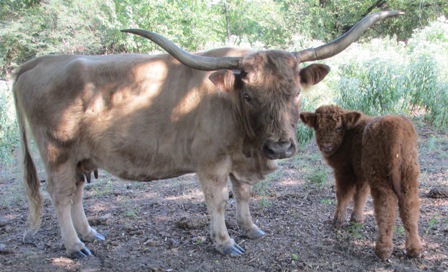 Contact us!

E-Mail Ranch

AQ Ranch

~ since 1994 ~

Beef - Eggs - Livestock

Last Modified on:
10 Sep 2017