AQ Ranch Livestock For Sale
The prices listed below do not include delivery, innoculations, heath certificates, ear tattoos, or the buyers membership in the AHCA, and our prices reflect that. Due to work schedules and health limitations, we simply can not accomodate these types of requests.

A 50% non-refundable deposit will hold the calf of your choice until it is weaned, or until pickup can be arranged. If you want to bottle feed one of the babies, you may pick them up before weaning is complete. We usually wait until they are 6 months of age to separate them from mom. However, if the weather is hot at the 6 month point, we'll wait for cooler temps to reduce stress on them. The new owners have 90 days to arrange pickup once they've been notified the calf is ready.

All of our Scottish Highlanders are full-size and registered (unless otherwise noted).

If you are interested in some of the animals we have already sold, they have their own page: AQ Sold
***************
We have only one of our 2017 babies left!
***************

Born on 12Jul2017, RAQ Aodh Wallace is a brindle male out of Sarah and MacTavish.
(His baby coat was red, and as it has shed out he's turned into a beautiful brindle.) 'Hugh' is offered at $800 (unregistered) or $950 (registered).
Hugh, like his mother, carries the notch-ear (or crop-ear) gene, and if you look closely you can see a slight notch in both of his ears.
His first photo was as a baby, the second and third ones are him at nearly 7 months old.
He is available now to go to his new home.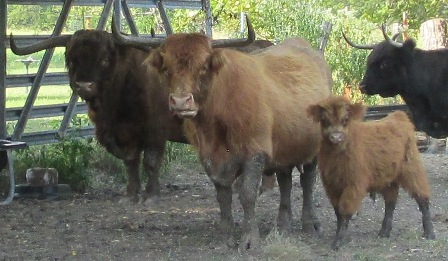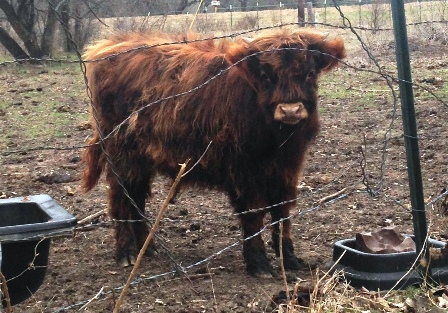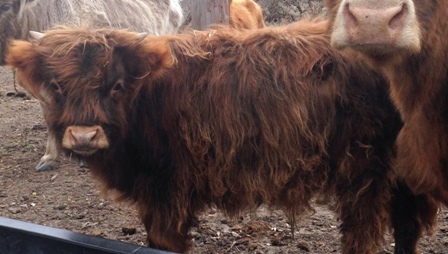 Contact us!

E-Mail Ranch

AQ Ranch

~ since 1994 ~

Last Modified on:
03 Feb 2018