Freckles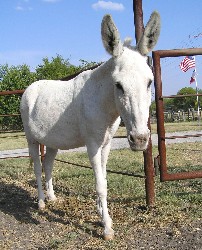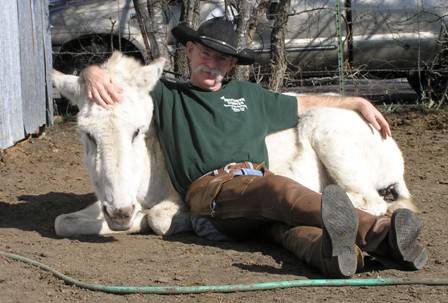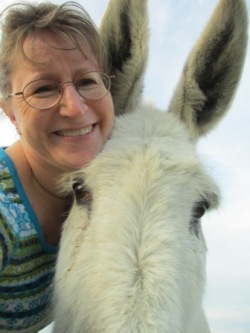 Freckles was a standard donkey. We got her on July 31st 2006 to keep Jake company. We had no idea how old she really was when we got her, only that she was an adult. For over 8 years she was our beloved long ear "puppy". We buried her in her pasture on Dec 5th, 2014. You'd call her name and she'd quietly answer "ah-hee,ah-hee" and come to you for petting. Her desire for attention made getting photos difficult, since she came towards you as soon as she saw you. However, if you were a tad bit slow with the food bucket, and she notified the entire county! Our pasture will never be quite the same without her.
Betty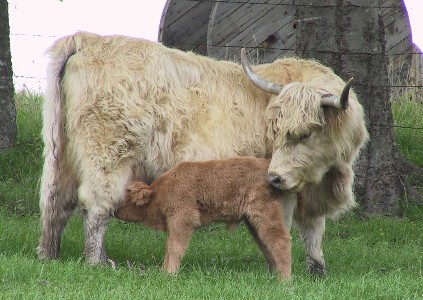 Betty was born April 1998 and she died December 2009. We bought her in 2006. She was a terrific cow, producing several blonde calves. She was our oldest Highlander, and had started to slow down a bit. We had an unusually wet winter, and she slipped, mired and drowned in the flooded creek. We found her the next morning. We will miss her presence in our pasture.

Jake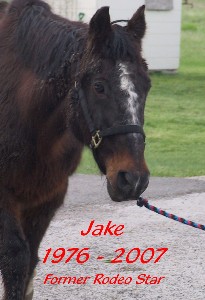 Zeke wanted to learn to ride, and in November of 2003, Zeke purchased an older, "bullet proof" horse. This horse, who had probably been known by more names than many an Old West character, was known as Jake for at least the last 15 years. Jake was, we think, a quarter horse, but his lineage had long ago been lost. He was a very old gentleman; estimated to be in his late twenties. His front teeth were worn even with his gums so judging age was rather difficult!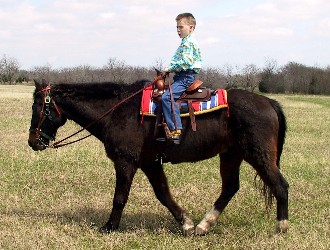 Zeke purchased him from the Kevin McGuffey family, whom Bryan had known for years. Kevin is currently the Outdoor Eduction Director for Sabine Creek Ranch. Jake was kind and gentle, if a little tender-footed, when we got him. He had a gentle disposition after years of being the "learner horse" for the McGuffey family, before performing the same function here. Jake was gentle enough that anyone, stranger or friend, could climb upon his back and go for a ride.
Jake had a colorful career as a rodeo horse, prior to becoming The Old Man at RAQ. Kevin's son Keaton first acquired Jake, and so named him, in 1992 when he was a youngster wanting to start calf roping competitively. Jake and Keaton won several events as a team. One time, while they were at a rodeo getting ready to compete, and older, much more experienced roper wandered up to the McGuffeys and said "I know that horse! We won a lot of money together when I had him in the 1980s."
Jake, you may have run your course in life, but we at the RAQ will not forget you. You were a friend and partner here at the ranch. We know now that the cancer cannot touch you anymore, and we hope that you are standing belly high in bunch grass now. So long, Ole Pard!

"Somewhere...somewhere in time's own space
There must be some sweet pastured place
Where creeks sing on and tall trees grow
Some Paradise where horses go.

For by the love that guides my pen
I know great horses live again."

-Stanley Harrison
Contact us!

E-Mail Ranch

AQ Ranch

~ since 1994 ~

Last Modified on:
07 Dec 2014